What is Scratchboard?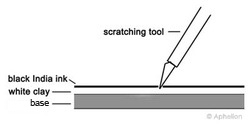 Scratchboard is a 2-dimensional subtractive art form. Sharp tools are used to remove, or "scratch", through a layer of ink revealing a white layer underneath. The majority of the values within the artwork are achieved by varying the amount of surface layer that has been removed. The most common form of scratchboard consists of a hardboard support covered with white clay and coated with black India ink.
Artworks may be left black & white, or the exposed clay areas can be colored. A variety of transparent mediums may be used for color, though the underlying scratches should always remain visible. White clay coated boards can also be covered with other colored media, and then scratched.
Many artists use sharp tools, such as scalpel blades, to scratch away the ink, creating work with exceptional detail and realism. Other abrasive implements may also be used to create a variety of effects. This unique process has attracted artists for its control in rendering intricate subject matter, while remaining highly versatile to those exploring folk art, abstract work, and many other artistic styles.
---
The Making of MaryAnn's Rose
by Lorna Hannett, MSA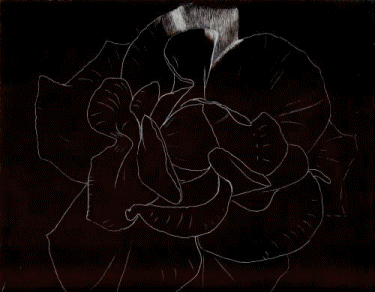 The textures and contours of the rose petals are created by scratching away the black. Lighter sections are achieved by more scratching in select areas. After the scratching is completed, color is added. After the color dries, additional scratching creates highlights. Color can be added to the highlights, and so on, until the piece is complete.
Save
Save
Save
Save
Save