What is Scratchboard?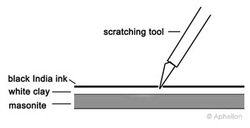 Scratchboard is a 2-dimensional, subtractive medium that involves the use of abrasive tools to directly remove a surface layer of one value (typically dark) to expose a secondary layer of a contrasting value (typically white).
The majority of the values within the artwork should be achieved by varying the amount of surface layer that has been removed (or left).
Reapplying of transparent mediums over the initial scratching is permissible, but the integrity of the underlying scratching should remain visible.
Works may be left black & white; some artists add color. The white clay areas that have been revealed by scratching will accept color. A variety of mediums may be used for color, including watercolor, ink, and fluid acrylics. Shades of grey may also be added with varying dilutions of black ink.
A white surface may also be used, allowing the artist to add ink or color where desired and then scratching.
---
The Making of MaryAnn's Rose
by Lorna Hannett, MSA
Save
Save
Save
Save
Save